Football is a game that stirs passion and emotion like little else. Sport has the capacity to move people to tears of both joy and sadness, screams of delirium and, for some at least, fits of rage. Whilst other cultural pursuits (including some perhaps not entirely cultural and typically done in private!) can bring happiness, wonder, sorrow and more; but only sport, and probably football more so than any other, does so in such an intense fashion and with such extremes.
These passions are never more keenly felt than when your side – be that England, Man City, Sunderland, Tranmere Rovers or Glossop North End – is playing against one of their major rivals. In cub football, rivalries are primarily and predominantly local. Clubs from the same city, town or county meet in local derbies up and down the land, from the fierce white heat of Glasgow's Old Firm derby between Celtic and Rangers to the supposedly friendly derby between Everton and Liverpool, to lower key affairs such as Fleetwood versus Morecambe.
In addition, clubs may develop rivalries with sides from further afield, for a variety of reasons. Often this stems from playing each frequently within a short period in high-stakes matches, or competing for titles and cups over a number of seasons against each other, though it might also be as a result of a particular incident or even a contentious transfer.
Our focus here though is international footballing rivalry and in particular who England has its most fierce feuds with. International rivalries can and do develop for many of the same reasons as club ones. We will look at England's biggest three rivals, some of the key clashes and explore why the rivalry has developed. Before we do that though, we'll start by looking at a few nations who didn't quite make the cut but that we feel deserve an honourable mention.
Note that the statistics and information given in this article are correct as of October 2022.

England's Rivals: The Honourable Mentions
Being traditionalists and lovers of basic maths, we can include but three nations in our top three, which means that there is no place for Wales, Ireland, France or Portugal.
Wales & Ireland
Wales and Ireland are obvious choices for rivals of England due to being neighbours, the long and complex geopolitical histories between them and the fact they competed in the British Home Championship for many years (including as Northern Ireland from the 1950s).
They have played many, many times over the years and there have been some huge clashes. Indeed, only one nation has played England more often than Wales, whilst Ireland/Republic of Ireland are third in that regard. In addition, when looked at from the other side, both Wales and Ireland would almost certainly list England as one of their main footballing rivals.
France
As for France, there is again the nation's proximity and a longstanding, if sometimes lightly held, animosity between the nations. Whilst the two nations may have worked together on the Channel Tunnel, the odd global conflict and the supersonic aeroplane Concorde, they have also been involved in more than their fair share of disagreements and even wars over the years.
On the pitch there have not been all that many key battles, although it should be noted that only four nations have played the Three Lions more often over the years. One big match that does spring to mind occurred at Euro 2004, when France came back from a goal down at 90 minutes to win 2-1 having scored twice in injury time. Ouch, that hurt!
Portugal
Last, to Portugal, often cited as being our "oldest allies" and one of the few nations with whom England has never been engaged in armed conflict. The teams have "only" met 23 times and England's record of 10 wins and 10 draws is hardly one to stoke a rivalry, at least from the English perspective.
However, at the aforementioned 2004 Euros it was Portugal who eliminated England. Two things were very predictable about that: it was at the quarter final stage and it was by virtue of a penalty shootout. Two years later the Portuguese repeated the tick at the World Cup, again at the last eight stage and again from the penalty spot. The rivalry was stoked not just by the fact that these matches took place in successive major tournaments but also by "the wink".
Cristiano Ronaldo talked the ref into sending off his Man United teammate Wayne Rooney, which was bad enough. But he then proved himself to be a total winker, winking to "celebrate" his achievement. Anyway, irritating as that was, historic rivalry a wink does not make. Time to look at England's real football rivals.
Germany/West Germany
Reasons for Rivalry – Two global wars, several huge games
Key Games – 1966 World Cup final, 1990 World Cup semi final, Euro 96 semi final
Games Played – 35
England Record – Won 15, drawn seven, lost 13
Ask most English football fans which nation they consider to be the number one rivals and we think that Germany would be the clear winner. We would consider the reasons for the rivalry fairly obvious and whilst World War I and World War II were, as their names indicate, global conflicts, most English people probably think of Germany as the number one enemy in both.
Battle was first done in a football sense way back in 1899, an English side winning four games in a row against the Germans on a tour of Germany and Austria. If only it was always that easy. They played other games early in the 20th century, some of which the German authorities class as official, but 1930 really marks the start of full internationals between the nations.
That Adolf Hitler came to power so soon after these games (in 1933) is perhaps a large part of why the rivalry began and how Germany became the team English fans wanted to beat. In 1935, the nations met for the first time since Hitler became ruler, England winning 3-0 at White Hart Lane and then again winning by three goals (6-3) in Nazi Germany in 1938.
The teams would not meet again until 1956 and when the World Cup came round in 1966 the Second World War was still very fresh in the memories of many in both nations. Indeed, Sir Alf Ramsey, England manager in 1966, had been conscripted into the army in 1940. Of course England won in 1966 and their overall positive record against Germany (West Germany included) is largely down to early dominance of the fixture.
Including that victory (it was technically a draw given England prevailed in extra time), until mid-1968 the record stood at seven wins to England and none to Germany, with only their first meeting, in Berlin in 1930, ending in a draw. Oh how things would change.
In the late 1960s, through to the start of the 21st century, it was Germany who very much had the upper hand. This includes two big wins in the semi finals of major tournaments, although both ended in draws after 90 minutes and extra time too. In fact, the fact that these defeats came via penalties, at the World Cup in 1990 and at the home Euros in 1996, quite probably further stoked this rivalry.
More recently England have fared better, winning a Group Stage game at Euro 2000 and famously hammering Germany 5-1 in Munich in a World Cup qualifier a year later. The Three Lions found out that revenge is a dish that tastes especially unpleasant cold some nine years late, being put to the sword 4-1 at the 2010 World Cup, in the last 16.
England themselves gained some semblance of revenge for that loss by winning at the same stage of Euro 2020 (played in 2021) and as things stand the overall head to head is quite even. Indeed, in the last 14 games, including the draw in normal time at Euro 96, there have been four draws, and five wins for each side. Is this great rivalry now going to see a sustained period of equivalence? Will the pair meet at the 2022 World Cup, or perhaps when Germany hosts the Euros in 2024?
Scotland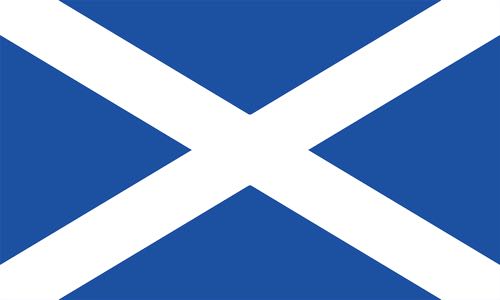 Reasons for Rivalry – History, history and history
Key Games – First ever international fixture in 1872, 1977 British Home Championship, play-off for Euro 2020 (two legs in November 1999)
Games Played – 115
England Record – Won 48, drawn 26, lost 41
England versus Scotland is widely accepted as being the first international fixture played in football, which is a pretty serious tick in the "historical rivalry" box. But of course the history between these two nations go backs much further than 1872, with William Wallace among a group of Scottish patriots who led armies battling against England in the late 13th century. The First War of Scottish Independence ended in 1328 but a second soon followed.
Power toed and froed between the nations over the years with various quirks of fate and fortune having huge, long-lasting historical consequences. It is beyond the scope of this piece to look at the full history between England and Scotland but since 1st May 1707 the nations were united (at least officially). Many Scots felt the union was more of a ruler-and-ruled relationship than a partnership, legendary Scottish poet Robert Burns noting that Scottish politicians had been "bought and sold for English gold."
Uniting two countries that had so frequently been at war was never going to be straightforward and there have been major issues over the last 300+ years, with the union perhaps never more imperilled than now. But in simple terms, to paraphrase Muhammad Ali, these two nations may struggle on, but they don't get along.
With masses of history on the pitch and off it, it is no surprise England and Scotland have developed a great rivalry. The enmity flows more readily from north to south, in part because England, in many ways, have been the senior partner on and off the pitch (or is it perhaps down to "arrogant" statements like that from us English?!).
Anyway, England and Scotland have met a massive 115 times, the Scots doing well to win 41 against England's 48. We say well because it should be remembered that at present England's population is about 56m and Scotland's is less than 6m. This is the fixture both nations have played most frequently and it is one of the most-played games in world football, though Argentina and Uruguay have met almost 200 times.
The rivalry between these UK nations has also been fired by the frequency with which they met during the British Home Championship. This tournament saw England, Wales, Scotland and Ireland (latterly just Northern Ireland) compete annually, beginning in 1884 and running for a century until being abolished in 1984.
One of the more memorable though less savoury clashes of this rivalry took place at Wembley in that tournament in 1977. The visitors prevailed 2-1 to win the title and a pitch invasion ensued, during which the pitch was vandalised. 10 years earlier we had seen something very similar at the same ground, Scotland winning 3-2 against the recently crowned world champions when all the hosts needed was a draw to win the Home Championship.
The rivalry has somewhat petered out in recent times as the sides have met far less regularly as a result of the demise of both the Home Championship and, sadly, Scottish football. In the 1980s and earlier eras Scotland had several top players, including world-class stars such as Kenny Dalglish, Denis Law, Graeme Souness, Alan Hansen, Dave Mackay, Billy Bremner, Jimmy Johnstone and more.
More recently Scotland have been less able to compete with "the Auld Enemy" and have rarely qualified for the finals of tournaments where they might face them. They met in the World Cup in 2018, plus a group game at Euro 2020. However, the last really key games between the pair were in the Euro 2020 play-offs, when neither side qualified automatically. England scraped through 2-1 despite losing the second game at Wembley, the visitors giving them a mighty scare.
Argentina
Reasons for Rivalry – Falklands conflict, Hand of God
Key Games – 1986 World Cup quarter final, 1998 World Cup Round of 16 clash
Games Played – 14
England Record – Won six, drawn five, lost two
Eagle-eyed readers with a grasp of maths will note that the games played data does not tally with the win/loss/draw record. This is due to the abandonment of a game in 1953, sadly, from the point of view of this piece, down to a thunderstorm rather than anything more nefarious.
Depending on their age, many fans will cite either the start of the Falklands War, in 1982, or the infamous Hand of God game (1986 and the first after the conflict) as the start of England's rivalry with Argentina. Younger fans may even point to the game in 1998 but older followers of the Three Lions may look back much further, to 1966.
In truth, this strange, pan-continental, non-local rivalry, probably only really started from the Argentine side that year. The teams met at Wembley in the quarter finals and, as we know, England prevailed. What fewer people will be aware of is that the Argentine captain received a red card, Antonio Rattin dismissed for what was described as "violence of the tongue". In fact he did not get a red card as the use of yellow and red cards would not arrive until the next World Cup.
None the less, Rattin was sent from the field of play after just 36 minutes, and four Argentine players (including the skipper) were booked within half an hour. The German ref spoke no Spanish and it is believed he misunderstood the situation. Rattin went eyeball to eyeball with the referee, Rudolf Kreitlein, and refused to leave the pitch. Play was stopped for some time, with talk of the game even being abandoned.
Eventually the game resumed and England won but there was a lot of bad blood on the Argentine side, with a feeling they had been cheated. Hard though it may be to believe, the tabloid press led with sensationalist and somewhat xenophobic headlines, including The People who went with "Animals! Says Ramsey". This was rather misrepresentative of the England boss's longer quote but certainly helped fuel the rivalry as far as the South Americans were concerned.
Much as we might say the rivalry dates to 1966 it went up several gears with the Falklands War. The conflict lasted just 10 weeks in 1982; Argentina surrendered, but the conflict resulted in significant loss of life on both sides. That meant that when the teams met at the World Cup in 1986, the first game since the war, everything was still very fresh in the memory. Argentina were desperate for revenge on the football pitch and led by their brilliant forward Diego Maradona they got exactly that.
Maradona scored two of the most memorable goals in World Cup history. At the press conference after the game he said that the first he scored "un poco con la cabeza de Maradona y otro poco con la mano de Dios" – a little with the head of Maradona and a little with the hand of God. Some English fans might suggest that was a poetic way of turning a blatant handball into something less unappealing. The second goal was simply one of the tournament's greatest ever, as Maradona weaved and jinked around almost the entire England team before rolling the ball into the net.
Maradona has since said that "Although we had said before the game that football had nothing to do with the Malvinas war, we knew they had killed a lot of Argentine boys there, killed them like little birds. And this was revenge". He has also noted that in some regards he preferred the first goal as it felt like he had really got one over on England. Both goals can be seen below:
Maradona Both Goals v England Mexico World Cup 86
The manner of this defeat (England lost the game 2-1) really brought more life to the rivalry from the English perspective. The Three Lions had been cheated out of a World Cup semi final and they sensed the pleasure it had given Maradona and co too. England again felt cheated 12 years on in 1998 but this time David Beckham must also shoulder some of the blame.
In a remarkable game at France '98 England were 2-1 up after just 16 minutes, Michael Owen scoring a stunning solo goal and both sides scoring from the spot in another feisty encounter. Argentina drew level in first-half stoppage time and shortly after the restart Beckham was sent off. Diego Simeone wound up the young Man United star and Beckham kicked out. It was a mere flick with his leg but Simeone went down and the ref reached for his red card. England held on to take the game to penalties but, to the surprise of nobody, lost on spot-kicks.