On 12th September, 2023, old rivals England and Scotland played in a match to celebrate the 150th anniversary of this historic fixture. The meeting back on 30th November, 1872 is classed as the first fully official international clash in football. That one ended 0-0 but the clash just over 150 years later was more entertaining – at least if you were supporting England.
The so-called 150th Anniversary Heritage match ended 3-1 to the Three Lions. Scotland's clash with the "auld enemy" is not just the longest-established international fixture, but also one of the most-played too. Over the years there have been some incredible and very important matches. The anniversary fixture was a friendly, or at least as friendly as meetings between these two get, but since 1872 they have met in crucial major tournament qualification clashes, as well as at tournaments proper. But who has the upper hand, just how many times have the local rivals gone head to head and what have been the most important games between them?
England Have Upper Hand Over Scotland
England and Scotland have played each other well over 100 times. In total, they have met 116 times, which lags well behind the sport's most-played international between Argentina and Uruguay. Those bitter rivals have faced each other almost 200 times, making Scotland's clashes with England seem decidedly infrequent.
Nonetheless, England have played no team more often and the same applies with regards Scotland and the Three Lions. England have the edge but they have not dominated this fixture as much as perhaps some fans would expect.
| Matches | England Wins | Scotland Wins | Draws |
| --- | --- | --- | --- |
| 116 | 49 | 41 | 26 |
Following their win at Hampden in 2023, England have now come out on top in 42% of the clashes. Scotland have won 35% of the meetings, with 22% ending in draws (rounding accounts for the missing 1% in case you were wondering!). But, for many years, it was actually Scotland who were out in front, which may surprise some.
England Dominate Since World Cup Win
Not that we English fans like to hark on about 1966 but the fact is that since the two sides met in April of that year, England have been very, very dominant in terms of results. Like so many of the games between these neighbours, that clash in 1966 was in the British Home Championship, a now-defunct competition. England won 4-3 in Scotland and whilst the Scots returned the favour the following year, winning 3-2 away, it has been one way traffic, more or less, since then.
Following that 1967 victory, Scotland have won just six games. What's more, three of those came in four matches in the mid-1970s. In contrast, the Three Lions have beaten their rivals on 20 occasions, with five matches ending with the honours shared.
Looking even more recently still and England have been even more on top in this fixture. Since 1982, the rivals have met 17 times and the Scots have won just twice. There have been only four draws, meaning that the Auld Enemy have won 11, or almost 65% of the games. So, whilst it is England that are on top historically speaking, in the wider picture of a rivalry that stretches back over 150 years, this supremacy has only been established quite recently.
England v Scotland Records
0-0s Rare – For a fixture in which time on the ball is often at a premium and tensions are high, 0-0s have been uncommon with just four in 116 matches. Three of those have come since 1970, however.
Biggest England Win – 1961 saw England's biggest-ever win in this fixture as they hit nine at home in the Home Championship, the game ending 9-3.
Biggest Scotland Win – Scotland's finest hour, or hours, both came back in the 19th century. They won 7-2 in 1878 and 6-1, south of the border, in 1881.
2-2 the Highest-Scoring Draw – This game has never seen a 3-3 or a 4-4 draw, with 2-2, occurring eight times, the highest-scoring stalemate.
Goals For/Against – The 116 clashes have seen 381 goals in total, an average of 3.28 per clash. England have scored 206 of those with Scotland netting 175.
Record Attendance – Back in 1937 it is believed a massive 149,415 fans were packed inside Hampden. Most went home disappointed though as the hosts lost 3-1.
Notable Clashes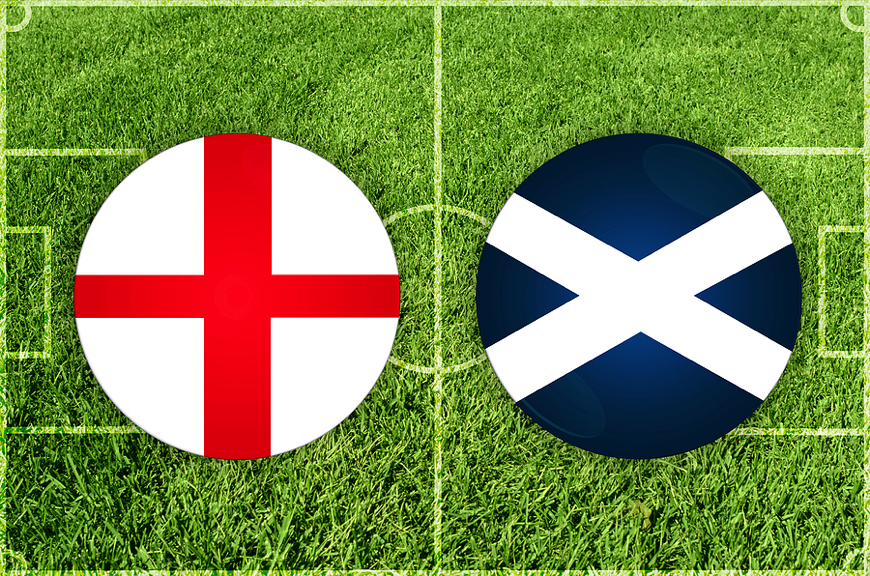 The teams have never met in the finals of the World Cup but did famously clash at Euro 96, when England hosted the tournament. England won 2-0 and the game is remembered for Paul Gascoigne's incredible goal but that is certainly far from the whole story. Scotland played well and were unlucky to be 1-0 down after Alan Shearer opened the scoring. However, they won a penalty shortly after but David Seaman saved from Gary McAllister. England rapidly went up the other end of the pitch and Gazza's moment of magic put the game beyond doubt.
Play-off Pain for Scots
Four years after that Euros heartbreak there was more of the same for Scotland as they lost a two-legged play-off contest and missed out on qualifying for Euro 2020. When England won the first game, 2-0 away, many assumed the tie was over but Scotland caused an upset in the return. They won 1-0 and played magnificently but couldn't do enough to grab a second goal.
1977: Scotland Win But Trouble Flares
Scotland secured a fine win at Wembley in 1977 which helped them win the 1976/77 Home Championship. They triumphed 2-1 but a violent pitch invasion from the away fans ensued, with the stadium damaged and fighting and rioting continuing outside the ground. Kenny Dalglish scored Scotland's second and he was part of an exceptional group that qualified for the 1978 World Cup, buoyed by their Home Championship success.
Scotland's Greatest Moment in Match-Up?
Back in 1928 Scotland travelled south and recorded a brilliant 5-1 victory at Wembley. The team, now known as the Wembley Wizards, humiliated their opponents. Alex James grabbed a brace, whilst Alex Jackson went one better and banged in a hat-trick. It was such a one-sided affair that James suggested his side could "have had 10"!