When you think of the England national team you probably picture them playing in either white (home) or red (away), the same two colours that feature on the English flag – the Saint George's Cross on a white background. While England very regularly play in either a red or white shirt though, this is not always the case. In more recent decades, they have been occasionally been spotted donning blue, the main colour of northern rivals, Scotland.
This really begs two questions, first of all, why do England sometimes have a blue shirt? And, secondly, why have they been known to wear a blue shirt for a match at home, choosing this over the traditional white strip?
England's Kit Colours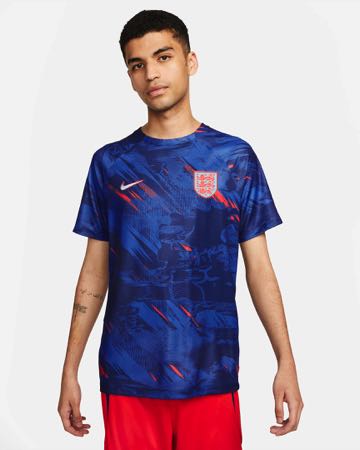 As is customary and indeed necessary to avoid kit clashes, England have long had (at least) two different shirts available to them, a home shirt and an away one. The home kit has traditionally been white with changes only made to the design and the colour of the shorts or socks. There has never been a blue home shirt in Three Lions history and it is hard to see the white being replaced anytime soon.
While the away shirt is very often red in colour, this is not such an unshakable tradition like the white home shirt. Rather than always sticking with the norm, manufacturers have sometimes gone for something a little different, such as the blue away strip from Nike in 2020 & 2017 and Umbro in 2012, plus the latter's famous grey kit from 1996. It is never a controversial decision to opt for blue for the away shirt, even if red is the default.
Occasionally, the Three Lions have had a third-shirt too, although this is far from standard, like it is at the top tiers of professional club football. If there has been a choice of three strips though, blue is often the pick for extra one. We saw this with Nike's design in 2017 or the Umbro kit in 1992. The Three Lions also had a very fetching blue third kit in 1990/91 and remains a fan favourite today.
Blue in Connection with the Union Jack?
At this stage, we are rather just pointing out when blue has appeared, rather than explaining why. For this, there is no real clear-cut answer. It may well be partly tradition as England's very first away shirts came in blue. It could also be due to the English connection to the Union Jack or perhaps it is just a colour that tends to sell well. The connection with the flag of Great Britain is most often cited to explain England's occasional foray into blue but in truth there is no definitive answer.
In addition, it would be a mistake to think that countries always play in a colour they have a strong link to or that related to their flag. Japan, for example, despite having a red and white flag, have long had a blue home shirt. Likewise, Germany tend to opt for white (home) and green (away) for their shirts despite having a flag consisting of black, red and yellow.
Also bear in mind it is not unusual for England teams across other sports to play in blue. Although the England cricket team regularly lines-up in white, they did win the 2020 World Cup wearing blue. Ultimately, there is no obligation to pick any particular colour so England would be free to play in green and pink, it is just that no manufacturer would be silly enough to try this!
Why Have England Played Home Games in Blue?
Standard international football rules mean that for any match, the home team gets to wear their home strip and the away team wears their away strip – makes sense, right? If this happens to cause a clash of kits, it is the away team that must find a suitable alternative. They can either choose to wear a third shirt if they have one, or their normal home kit. This system ensures that the home team can always wear their primary shirt in front of their home fans.
Home Games Played in Blue Kit
Why, in this case, has England ended up wearing blue for home matches in recent years? Although it has only been seen in a minority of matches, it is strange that it happens at all. Recent examples include:
England vs Egypt – March 2010 (Friendly)
England vs Germany – November 2017 (Friendly)
England vs San Marino – March 2021 (World Cup Qualifier)
England vs Albania – November 2021 (World Cup Qualifier)
England vs Switzerland – March 2022 (Friendly)
The three most recent of the matches mentioned above were especially odd as San Marino, Albania and Switzerland all played in their white away shirts. For the San Marino game, given the micronation often wears blue, some fans admitted to getting the two teams mixed up during the opening few passes. As no reason was given for the change in kit colour by the FA, this caused some fans to speculate the visitors simply forgot to bring their home kit with them.
Commercial Reasons
While not out of the realms of possibility, such mishaps with shirts are extremely rare and you would not expect it to happen during a World Cup qualifier, even if San Marino are a bit rubbish! What is more likely is that England simply chose themselves to wear their away shirt in advance, despite it being a home game. This may seem odd but ahead of the Germany match in 2017, the FA confirmed that the Three Lions would don blue for commercial reasons.
The thinking was that many fans had paid money for the blue shirt, so it would be a nice gesture for them to see the England players wearing it. Normally, fans would only get the chance to see this during away matches but prior to the Germany game, England went three away tests (supposedly) unable to wear blue due to kit clashes. We say supposedly because although the Three Lions took on Scotland and France, who both play in blue, it is less clear why the away strip could not have been worn when taking on the yellow and green of Lithuania.
More Exposure for the Blue Kit
In any case, the FA wanted to give the blue shirt some more exposure as it had been underutilised up to that point. It would therefore be a relatively safe assumption to think that commercial reasons were the reason for selecting blue in two of the home World Cup qualifiers during 2021 and the friendly versus Switzerland.
One extra point worth mentioning about the Switzerland clash is that in addition to wearing blue, England players also came out following the half-time interval with no names on their shirts. This, however, was not spurred by commercial motivations, rather it was to raise awareness of Alzheimer's and how sufferers of the diseases endure memory loss. The nameless shirts were sold after the match with proceeds going to the Alzheimer's Society, a very nice gesture, especially with so many former players affected by the issue.