Playing professional football is an impossible dream for millions of boys and girls and few will ever be able to play at that level. Of those an even smaller elite will make it to international football. However, our focus here is not just on players who played for England (men's team) but on the very best of the best who were fortunate enough to pull on the England jersey many, many times. Here are the 10 most-capped England players of all time!
Note that as said this list features the men's England team. All stats are correct as of 23/9/22.
No 1 – Peter Shilton, 125 Caps
Peter Shilton made his debut for England against East Germany in November 1970 and his last appearance was almost 20 years later in the third-place play-off against Italy at Italia 90. His club career was even longer, spanning 30 years with well over 1,000 league games, including winning two European Cups with Nottingham Forrest. His longevity is hinted at by the fact that it was Sir Alf Ramsey who gave him his first cap and amazingly he would have played even more times for the Three Lions had his career not overlapped with another great England keeper, Ray Clemence.
Shilton was a superb all-round goalkeeper and was named in the team of the year by the PFA for 10 seasons. At the height of his powers most considered him to be the very best in the world and he had it all. He was amazingly consistent, commanding, a leader and a great reader of the play, as well as being a superb shot-stopper. It is possible he continued to be selected by the national side when a little past his peak but that should not detract from his brilliance, nor his status as England's most capped player.
No 2 – Wayne Rooney, 120 Caps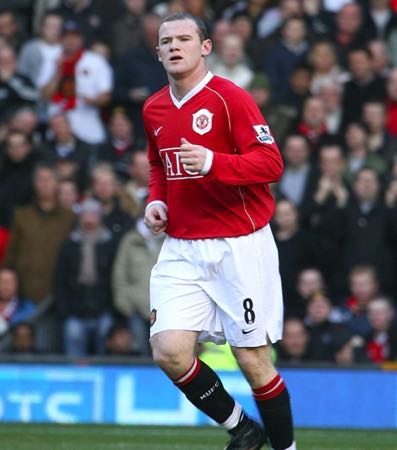 Wayne Rooney burst onto the scene with Everton by scoring a stunning goal to end Arsenal's long unbeaten run. His arrival as an England player was just as impressive, particularly at his first major tournament, Euro 2004 in Portugal. Rooney made his Everton bow at the age of just 16 and was only 17 when he played for the Three Lions against Australia in 2003. Later that same year he became England's youngest goalscorer aged 17 and 317 days, registering in a Euros qualifier against Macedonia.
By the time of the Euros he was established as a first choice striker and in the second group game he became the youngest scorer in the history of the Euros (though the record lasted just four days!). He added two more to book England's place in the last eight but then got injured in that game against Portugal. Whilst that was, perhaps, as good as things got for Rooney in terms of major-tournament goals, he continued to thrive. His last game for England came in 2018 against USA and all in all he managed a record 53 goals for the Three Lions, as well as 20 assists.
No 3 – David Beckham, 115 Caps
David Beckham was part of Man United's hugely successful side of the 1990s and into the 21st century but he also played for Real Madrid, LA Galaxy, AC Milan and PSG – quite the CV. Now the co-owner of Salford City and Inter Miami CF, "Becks" notched 17 goals for his nation and skippered them 59 times. His brilliance with a dead ball and his brilliant crossing ability were well known and he scored some truly memorable freekicks.
Perhaps the best and most crucial of those came in the dying seconds of a World Cup qualifying game against Greece. In the third minute of added time England needed to score and from 30 yards Beckham bent the most perfect freekick into the top corner – check it out below. Beckham's England career certainly had its highs but there were terrible lows too, chiefly his sending off at the World Cup in 1998 against Argentina. The way he came back from that was hugely impressive, and to go on and enjoy the England career he did was a testament to his commitment.
No 4 – Steven Gerrard, 114 Caps
Steven Gerrard is among the majority of players on this list to have captained England and the Liverpool legend did so between 2012 and 2014. He is not alone in perhaps failing to produce his best football in an England shirt but even so, the midfielder managed 21 goals in his 14-year Three Lions career. His debut came the day after his 20th birthday against Ukraine, whilst his last game for his nation was at the disappointing 2014 World Cup, against Costa Rica.
"Stevie G" played in six major tournaments for England, being named in the Team of the Tournament at the 2012 Euros. His first goal for his nation came in Germany in the incredible 5-1 thrashing of the hosts. His last was 12 years later against Poland, both in World Cup qualifying. Now a manager, he will one day hope to manage both England and Liverpool, but he will always be remembered by England fans for his passion and on-field leadership.
No 5 – Bobby Moore, 108 Caps
Bobby Moore is the only England captain to have ever lifted a major trophy and for that reason he will always have a special place in the hearts of England fans. His international career spanned "just" 11 years, and was fairly evenly spread on either side of that World Cup triumph in 1966 as he was skipper between 1964 and 1973. Indeed, he captained both West Ham and England from a very young age, which was evidence of his natural leadership abilities.
He led the Three Lions out for the first time aged just 23 and 90 of his 108 caps came as skipper. Only Billy Wright (see below) can match that. Moore was renowned for his silky style of defending, his pace and reading of the game meaning he rarely looked troubled. Sadly Moore died at the age of just 51, in 1993, his primary club West Ham retiring his number 6 shirt in 2008.
No 6 – Ashley Cole, 107 Caps
One of a small number of players on our list not to have captained England, Cole was a world-class left-back who could have played for any side. His England debut came in 2001 against Albania when he was an Arsenal player and he had previously played for both the Under 20 and Under 21 sides. In his 107 caps he might never have managed to find the net but he truly was an outstanding defender.
Not as attacking as some other fullbacks of his generation, let alone the very modern era, Cole still chipped in with a reasonable number of assists. However, his pace, tenacity, positioning and ability in the tackle were what defined him, never more so than in a stunning performance against Cristiano Ronaldo at the 2004 Euros. Cole last played for his country against Denmark in 2014 and currently works with another member of this list, Frank Lampard, at Everton.
No 7 (joint) – Bobby Charlton, 106 Caps
The other World Cup winner on our list is still alive at the time of writing, Bobby Charlton having been born in 1937 in Northumberland. Charlton was the leading scorer for the Three Lions for a long time until Wayne Rooney eclipsed his 49 goals, Rooney also besting Charlton's total of 249 goals for Man United. The United legend's goalscoring feats were all the more impressive considering he didn't play as a striker but rather as an attacking midfielder.
Renowned for his powerful ball-striking, the 1966 winner of the Ballon d'Or (he also came second in 1967 and 1968) was extremely durable and supremely fit. He made his England debut in 1958 against Scotland, just a couple of months after surviving the Munich Air Disaster which killed so many of his teammates. His last cap would come 12 years later against West Germany in the quarter final of the 1970 World Cup. Charlton, along with brother Jack, effectively retired from international football shortly after the game and at that stage he was the most capped England player, holding the record until 1973 when Bobby Moore eclipsed him.
No 7 (joint) – Frank Lampard, 106 Caps
Lampard currently manages Everton but of course he made his name at Chelsea, having initially shown his class as a youngster at West Ham. Lampard's 15-year England career spanned three World Cups (2006, 2010 and 2014) but just one Euros (2004, England failing to qualify in 2008 and him being injured in 2012). He managed 29 goals for his country but his international career, much like Gerrard's, was never quite as good as his club one. In part, like the Liverpool man, this was due to being played out of position at times to try and accommodate two players that were both attacking, box-to-box players.
However, 106 caps and 29 goals are fine stats by any standards and Lampard was named in the Team of the Tournament at Euro 2004. In addition he was voted England's top player in 2004 and 2005 and captained the side at various times throughout his international career. He won countless trophies with Chelsea, as well as various individual awards, including being named UEFA's Midfielder of the Year in 2008.
No 9 – Billy Wright, 105 Caps
Billy Wright was a one-club man who turned out more than 500 times for Wolves between 1939 and 1959. Born in Shropshire in 1924 he died at the age of 70 in 1994 and holds the accolade of being the first player to earn 100 international caps. Incredibly he captained the Three Lions in 90 of his 105 appearances, including at three consecutive World Cups from 1950 onwards. A tough centre half, Wright won three First Division titles with Wolves, was second in the 1957 Ballon d'Or and would go on to manage England's youth team, albeit briefly.
For a long time England's most-capped player, Wright scored three goals for his nation and was a brilliant leader. He made his debut against Ireland at the age of 22 and his last outing for England came in 1959, shortly before he retired, against the USA.
No 10 – Bryan Robson, 90 Caps
Robson was known as Captain Marvel and is the only player on our list of most-capped England legends not to be a cap centurion. "Robbo" skippered the Three Lions on 65 occasions, with only Wright and Moore above him in that regard. He was an inspirational player who led by example and also through force of will.
He managed 26 goals for his nation and had the brilliant ability to time his runs into the box perfectly. The archetypal box-to-box midfield dynamo, Robson probably deserved to play in better England sides than he did. Born in 1957 he remains a club ambassador for Man United, the side with whom he won numerous trophies, including two Premier Leagues and three FA Cups. Brilliant though his England career was, it would have been even more impressive had injuries not blighted it, most notably at the 1986 and 1990 World Cups.